The cost of medications continues to skyrocket, so savvy consumers must use money-saving strategies.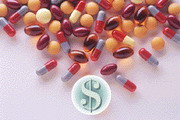 It's a bitter pill to swallow, but prices of prescription drugs have been escalating, adding to the already prohibitively high cost of health care. According to the Employee Benefit Research Institute, prescription drug expenditures grew at double-digit rates during almost every year since 1980, accelerating to 14.1% in 1997. Senior citizens who depend on Medicare, which does not cover outpatient prescriptions, shell out the most. But even people whose health insurance pays for medications may find they have hefty co-payments or deductibles. The prescription drug costs of private insurers are rising even faster than the overall total costs, increasing 17.7% in 1997, after growing 22.1% in 1995 and 18.3% in 1996. Here are some tips to help you stretch your prescription-drug dollar:
Talk to Your Doctor
. Make sure your doctor knows if you have to pay for prescriptions out of your own pocket. Often, there are several medications that can be used to treat the same condition, and your physician may be able to prescribe the one that is the most economical.
Generic Drugs
. Instead of buying brand name medications, ask your doctor if you can get generic equivalents. This can save you between 30% to 50% or more. Also ask if there are over-the-counter medications that might meet your needs.
Know what your medical insurance or managed health care plan covers
. Before you sign up for a plan, check what your co-payments for
prescription drugs
will be as well as the maximum amount the plan will pay in a year. Also find out if your health plan has a formulary--that is, a list of drugs that they will cover. A health plan with a closed formulary pays only for certain preapproved drugs. If the one you need is not on the list, you pay the whole cost yourself. Open formularies offer most drugs, but the prices vary. If your plan has a closed formulary, you may be able to request an exception by having your doctor fill out a form. But with other HMOs, you may have to go through an appeals process.
Price comparison
. Shop around for a pharmacy that offers the best value for your needs. Some drug stores, for example, offer cheaper prices but no services such as home delivery or pharmacist consultations. It may even be worthwhile to compare prices on a prescription-by-prescription basis, since stores sometimes have specials on popular drugs. Also, if you find a cheaper price for your medication on-line, your pharmacist may match the lower price.
Buy in bulk
. If you'll be on a drug for a month or more, ask your physician if it's appropriate to order a bulk supply. It costs less than buying by the week.
Order by mail or online
. Mail-order pharmacies now account for 10 to 12 percent of the total prescription market, according to the Pharmaceutical Care Management Association. Ordering by mail, which can save you 10% to 15%, is perfect for patients who take medication on an on-going basis and can place orders in advance. Some resources that offer discounted mail-order drugs: Medi-Mail, 800-331-1458; and the American Association of Retired Persons (AARP), 800-456-2279.
Although you may be able to save money by ordering on the Internet, be careful. Many Web sites are not reputable and are selling medications without authorization to do so. Avoid pharmacies outside the U.S.--you may not get the proper formulation of the drug you need. Also, some shady Internet pharmacies set up overseas to avoid U.S. law. The
National Association of Boards of Pharmacy
(NABP) developed a system to verify licensure of Internet Pharmacies--the Verified Internet Pharmacy Practice SiteTM (VIPPS) certification. NABP is located in Park Ridge, Illinois. The organization can be reached at telephone number (847) 698-6227.
Consider splitting pills
. Patients can get certain prescriptions at double their appropriate dose and then split the tablets in half. This tactic can result in a 50 percent savings--no wonder some HMOs ask or even require that patients do it. To find out if pill-splitting might be appropriate for you, consult with your doctor and pharmacist. Some drugs, such as pills in a time-release formulation, should not be split because you might get a full dose all at once. Also, since pill-splitting often results in inexact dosages, your doctor may nix the practice if you need a very precise dose. But if you are given the okay, you can buy a pill splitter to help make the cutting task easier and more accurate.
Manufacturer aid
. Most major drug companies now have programs to give medications to patients who have no way of paying for what they need. The details of such programs vary widely depending on the manufacturer, but all of them require that the doctor put in the application for you. Doctors unfamiliar with these programs, can call the Pharmaceutical Manufacturers Association (202-835-3400) and ask for its guide to these programs (patients themselves cannot request this information.)